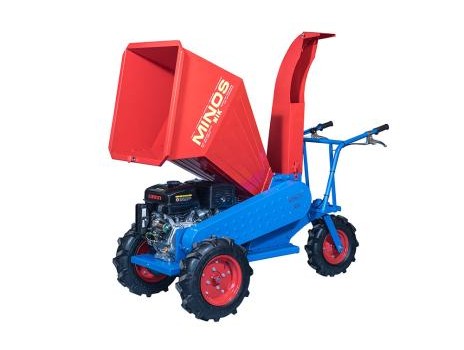 The Minos Nik shredders are available in several models depending on the customer's needs.
High-performance wood chippers with the ability to shred branches with diameter up 13-15cm.
Ergonomically designed and fully weighed to move easily in the field.
Three – wheeled with wide wheel frame for maximum stability even at the most uneven ground.
All wood chippers have an emergency stop button for safety reasons. Metal construction that guarantees durability. Large hopper, wide at the cutting point so that it grinds even especially leafy material. The output of the material is at a height of 150cm and helps to directly load the finished product into a transport carriage or large bins. Each knife has 2 cutting edges, so when one side is worn, you just turn it over.
The available models are:
 Μ1 stationary with engine 13hp 420cc
 Μ2 self-propelled with engine Loncin 13hp 420cc
 M2 elf-propelled with engine Honda 14hp 420cc
 M2 elf-propelled with engine Robin Subaru 14hp 420cc
All the models can be expanded with the Double Crusher wood chipper so that all wood remains can be turned into pellet.
M1 stationary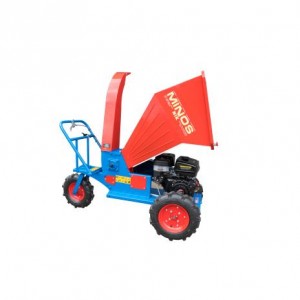 TECHNICAL SPECIFICATIONS Μ1
| | |
| --- | --- |
| Dimensions (height-width-length) | 155 x 75 x 170 cm |
| Cubic Capacity | 420cc or more |
| Start | Hand starter or electric starter |
| Wheels | 3 |
| Weight | 200 kg |
| Knives | 2 sharpened with 2 cutting edges |
| Double crusher slot | Yes |
M2 self-propelled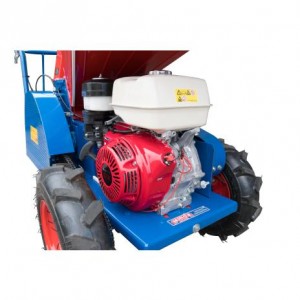 TECHNICAL SPECIFICATIONS Μ2
| | |
| --- | --- |
| Engine | Loncin 13hp / Honda 14hp / Robin Subaru 14hp |
| Dimensions (height-width-length) | 155 x 75 x 170 cm |
| Cubic Capacity | 420cc or more |
| Start | Hand starter or electric starter |
| Wheels | 3 |
| Weight | 200 kg |
| Knives | 2 sharpened with 2 cutting edges |
| Shredding diameter | 13-15 cm |
| Double Crusher slot | Yes |