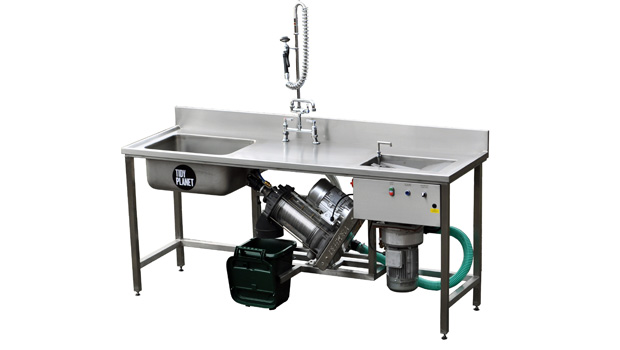 The Dehydra Compact station is a food waste reduction system which can reduce the volume of your food waste by 80% and can lower the weight by as much as 50%.
Available as a standalone de-watering solution for connection to existing food waste disposers (FWDs) or as part of an integrated waste disposal and de-watering solution, the Dehydra is the only self cleaning de-watering system that can be fitted with waste water re-circulation.
The Dehydra dewaterer can be remotely located from the FWD to allow for installation in kitchens with limited free space. It can also be connected to multiple FWDs by the use of an intermediate tank to enable a single waste collection area to be specified. The Dehydra can also be supplied as part of a food waste disposal bench that can be provided with a utility sink. The benches are available in a range of standard sizes but can also be bespoke to your requirements.
The Dehydra has the capacity to reduce food waste volume by up to 80% and the weight by up to 50%. The De-Hydra uses the most efficient food waste recovery screen to ensure that food waste is captured rather than being sent to drain where it will cause blockages and odours. The screen is automatically cleaned after every cycle minimising labour requirements and saving up to 25 days per year versus alternative de-watering systems.
The remaining processed food waste can be used as a high quality feedstock for Anaerobic Digestion systems or for Composting.
How it works
Food waste is fed into the hopper by the operator and ground into small particles by the food waste disposer. The operation of the whole unit is quick, simple and safe thanks to a design which prevents access to the grinding mechanism while the unit is operating. The ground food waste is then pumped from the disposer into the hydro-extractor. Combining an auger and a screen with a very fine mesh (1 mm diameter holes) the hydro-extractor separates the liquid from the ground food waste. The excess liquid can then be re-circulated to reduce water consumption before being disposed of to a foul drain. Once the food waste has been disposed of the system automatically self cleans to minimize operator time.
TECHNICAL SPECIFICATIONS
| | |
| --- | --- |
| Length (m) | 0.7 |
| Width (m) | 1.5 |
| Height(m) | 0.9 |
| Capacity | 350kg/hour |
| AC Supply | 3-phase 400V 50Hz |
| Energy consumption | 4 kW/hour |
| Water consumption | 12-20Lt/min |
| Installation requirements | Hot & cold water service line and sewer connection |
https://www.youtube.com/watch?v=WHcYvMSxEiI