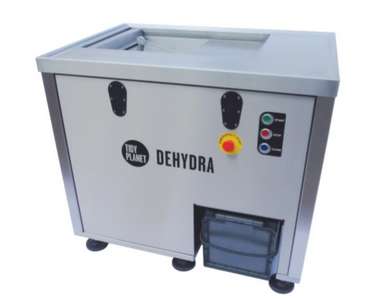 The Dehydra Compact station is a food waste reduction system which can reduce the volume of your food waste by 80% and can lower the weight by as much as 50%.
The DEHYDRA dewatering station is a modern system for reducing the volume of kitchen and food waste. Reduction capacity can reach 80% of volume and 50% of weight.
It is available as a complete system along with the garbage can, but it is also possible to apply the dewaterer to already installed waste disposals by saving space. The DEHYDRA Super Compact comes without bench for use in smaller spaces. Dehydra has the ability to reduce the volume of waste to 80% and reduce the weight of waste to 50%. It uses the most effective combination of filters to remove only moisture and not solid wastes that could cause blockages and unpleasant odors. The filters are self-cleaning after the end of each cycle. The solid mass produced is ideal for composting and is recommended to be placed in the ROCKET accelerated composting unit.
How it works
Kitchen waste is dropped into the waste disposal and is broken down into very small pieces. The process is very fast, simple and safe since there is no access to the shredder by the operator during the process. The pulp product is then pumped from the dewatering system where the separation of liquids from the solid waste takes place. The liquids produced can then be recirculated, thus reducing water consumption, while at the end of the process the liquids are removed through the drainage. In the end the mechanism is self-cleaning by minimizing its operating time.
TECHNICAL SPECIFICATIONS
| | |
| --- | --- |
| Length (m) | 0.7 |
| Width (m) | 1.0 |
| Height(m) | 0.9 |
| Capacity | 300kg/hour |
| AC Supply | 3-phase 400V 50Hz |
| Energy consumption | 4 kW/hour |
| Water consumption | 12-20Lt/min |
| Installation requirements | Hot & cold water service line and sewer connection |