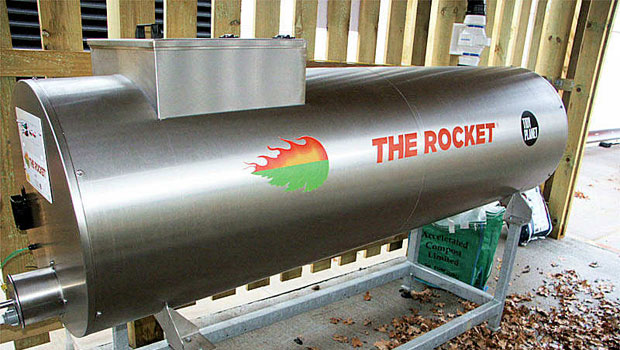 Specifically designed for the safe and hygienic on-site processing of organic wastes, the A700 has been rigorously tested and proven on-site to comply with animal by-product regulations.
The A700 Rocket® composter is capable of continuously processing up to 1400 litres of organic waste each week. Thermostatic controls automate the process ensuring minimum operator interaction with only a standard single-phase 240-volt power supply needed.
Available as a stationary organic waste solution with the facility for temperature recording and robust construction ensuring longevity, the Rocket® range of food waste treatment systems are suitable for the on-site processing of:
Cooked & Uncooked Meat & Fish
Cooked & Uncooked Fruit & Vegetables
Garden Waste
Animal Waste (including some types of bedding)
Currently in operation at a wide range of sites throughout the UK, the A700 Rocket® is saving on expensive organic waste disposal costs for many organisations including:
River Cottage
Warren House Conference Centre
Universities of Bradford, Salford, Cumbria
The Royal Air Force
Atkins Global FM
TECHNICAL SPECIFICATIONS
Size (mobile) Length
3000mm
Width
900mm
Height
1600mm
Capacity
up to 700 Litres of food waste per week
*Optional:
Up to 2100 litres per week (combined with Dehydra Dewaterer)
Motor
0.75kWh
Power Requirement
Single-phase 240-volt, one 13 or 16 amp plug socket
Average Power Consumption
26 kWh+ per week
Heater Element
2 X 0.80kWh – Thermostatically controlled
Temperature Recording
4 channel recorder and software
Air extraction
Included
Housing Requirement
Min 4.5 x 2.5m Under cover on hard standing (non-porous)
Options
Dehydra De-waterer package increases capacity to 2100 litres per week.
Temperature datalogger and software – ideal for educational programmes and accurate reporting.Power sieve for refining end product increasing product usage.