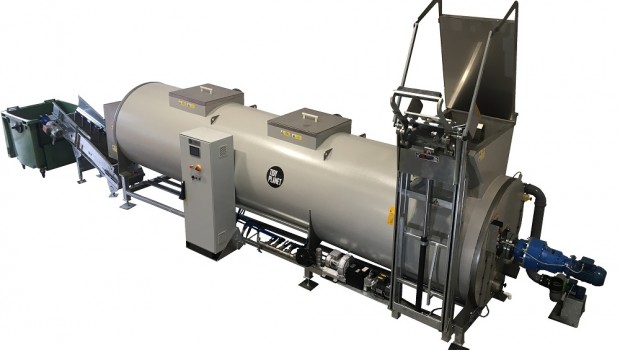 Bigger is sometimes best! The largest machine in the Rocket® range offers a fully sustainable organic waste recycling solution for larger catering facilities and multi-site operations.
The A1200 Rocket® composter is capable of continuously processing up to 7000 litres of organic waste each week. Thermostatic controls automate the process ensuring minimum operator interaction with only a standard single-phase 240-volt power supply needed.
Available as a stationary organic waste solution with the facility for temperature recording and robust construction ensuring longevity, the Rocket® range of food waste treatment systems are suitable for the on-site processing of:
Cooked & Uncooked Meat & Fish
Cooked & Uncooked Fruit & Vegetables
Garden Waste
Animal Waste (including some types of bedding)
As the largest machine in the Rocket® range the A1200 Rocket® is ideal in array to process material from local food waste collections currently undertaken by:
Exxon Petroleum
Aardvark Recycling
TECHNICAL SPECIFICATIONS
Size (mobile) Length
7000mm
Width
1000mm
Height
1800mm
Capacity
650 Litres of food waste per day
*Optional:
Up to 2000 litres per day (combined with Dehydra Dewaterer)
Motor
1,50kW
Power Requirement
Single-phase 240-volt, one 13 or 16 amp plug socket
Average Power Consumption
30 kWh+ per week
Heater Element
2 X 1.0kW – Thermostatically controlled
Temperature Recording
4 channel recorder and software
Air extraction
Included
Housing Requirement
Min 10 x 4m Under cover on hard standing (non-porous)
Options
Dehydra De-waterer package increases capacity to 10500 litres per week.
Temperature datalogger and software – ideal for educational programmes and accurate reporting.Power sieve for refining end product increasing product usage.
https://www.youtube.com/watch?v=BLOdBlaSW_U