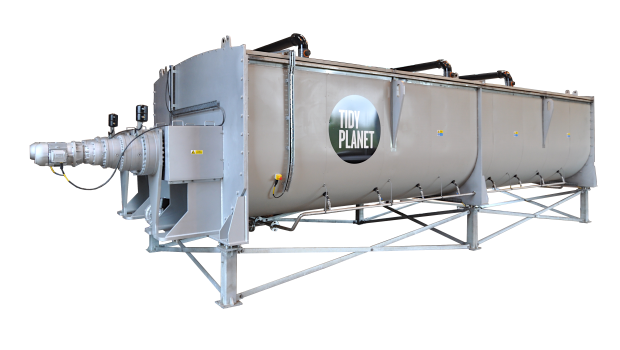 In vessel composting plant 5-7 tons/day.
The B2500 Rocket Composter has been uniquely designed and patented.The system comprises of a "Double U" shaped hull with twin longitudinal shaft configuration.This unique arrangement allows much greater mixing of materials which in turn leads to a more uniform degradation.The design also then impacts on running costs and maintenance as we are able to provide a system with no internal support mechanisms for the shafts.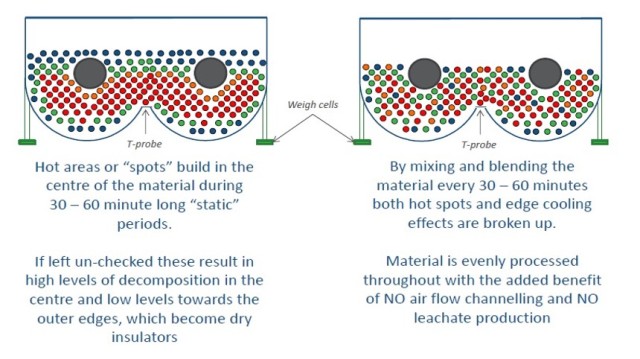 Composting process
Woody / sewage wastes are shredded and mixed together
A wheeled loader or similar will be needed to mix / load the wastes
A heavy duty shredder may be required depending on the woody wastes provided
The operator will need to be trained on equipment but also in the management of the incoming feedstock and what requires / does not require mixing and shredding
The mixed sewage / wood are loaded by operator into a bulk feed / loading hopper
The loading hopper belt feeds directly into the composting unit
The feed rate is 24/7 and determined by the software governing the composting vessel, the system will "feed itself" throughout the day without manual operator intervention
The main hopper may need filling only once or twice per day
The Vessel is a continual process system, loaded with wastes daily that gradually process along the unit, being pushed by the weight of the fresh incoming wastes while the shafts agitate the mix
The material will reduce by weight byc:40% in the process and material that has resided for c:8 days will be automatically ejected by screw discharge onto a belt and into a stockpile
All this is PLC Controlled
The vessel is linked to odour control system
The vessel is equipped with air injection and air extraction
The daily compost product will be c:2tonne per composting vessel this will need moving x 2 by loading shovel to maturation bays
After c: 2 week stabilising the compost will be moved into a second adjacent maturation bay
After a further 2 weeks the product can be refined further before re-use
Screening equipment will be required / trommel
Operator training will be required
Screening will be x 1 every 2 weeks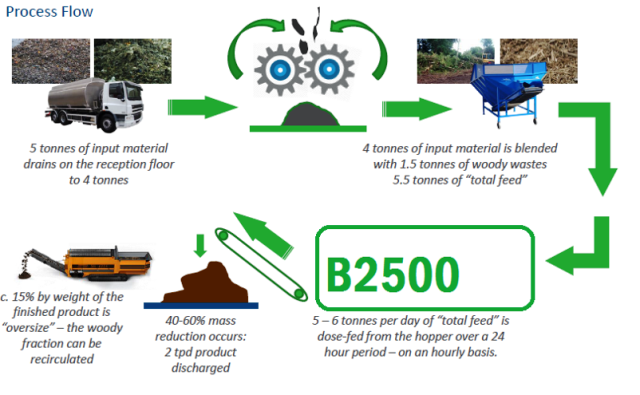 Why use B2500?
High temperatures (+60DegC) achieved to ensure pathogen kill
Minimal footprint for equipment – minimal building space required
Minimal labour requirements – low operator interaction with equipment
Enclosed process – no attraction to birds / vermin
Bio-filtration on site – vented gases are processed through special organic medium to control / eliminate odours
Simple monitoring of process / adaption of process from "desktop"
Recognised / regulated technology in Europe for the treating of organic wastes
Produces sterile biologically degraded material that can be used as compost / soil improver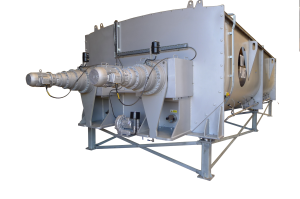 TECHNICAL SPECIFICATIONS
| | |
| --- | --- |
| Size (mobile) Length | 10000mm |
| Width | 4000mm |
| Height | 2500mm |
| Capacity | 6-7 tn per day |
| Motor | 2*11 kW |
| Power Requirement | Three-phase 415-volt, 2*50 amp |
| Average Power Consumption | 43 kWh per day with air handling |
| Heater Element | optional |
| Temperature Recording | 8 channel recorder and software |
| Air extraction & Ventilation | Included |
| Housing Requirement | Hard standing (non-porous) |
| Options | Air injection, biofiltration, odour management, pre – shredder, loading hopper, end product screening. |