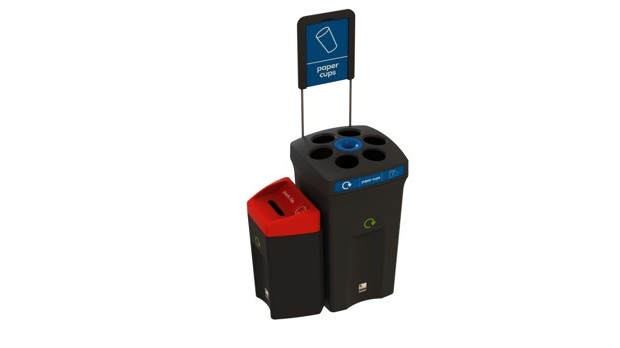 As demand for recycling segregation at source increases we introduce a new suite of smart, stylish recycling bins that accommodate up to four individual waste streams. The Envirobin Hub is composed of two different bins Enviropod and Envirobin 100.
Suitable for internal use
Slimline, compact and space saving design
Ideal for low, medium or heavy waste recycling
Use individually or in a group
Optional apertures available for both Enviropod 33 and 43 and Envirobin 100
WRAP colour coded apertures and graphics included as standard
Strong, durable and lightweight
Fixing kits included
TECHNICAL SPECIFICATIONS
Models
Hub 133 (Enviropod 33 & Envirobin 100)
Hub 143 (Enviropod 43 & Envirobin 100)
Capacity
133Lt (33&100)
143Lt (43&100)
Dimensions for Envirpod (H-W-D)
594 x 359 x 274mm
753 x 359 x 283mm
Dimensions for Envirobin 100 (H-W-D)
803 x 445 x 445mm
Material
UV stabilised medium density moulded polyethylene (MDPE)
Label
Included
Available apertures for Envirobin 100
Open, hole, slot, propeller, lift lid, flip top, hooded, cup, cupXL
Available apertutes for Enviropod 33/43
Open, slot, propeller
Hub 133 (Slot 33Lt, CupXL 100Lt)                                        Hub 143 (Slot 43Lt, CupXL 100Lt)
Available colours:
The colours shown below are available for the lids and base of the bin.