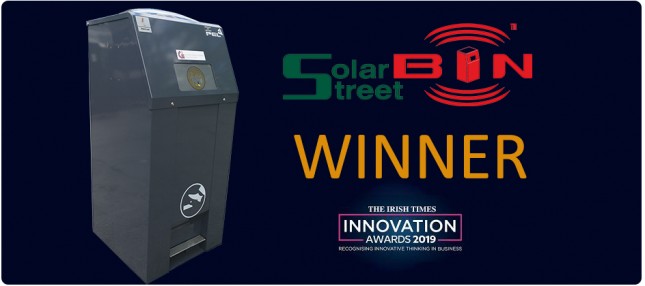 PEL Waste Reduction Equipment has been announced as the winner in the Manufacturing and Design category of The Irish Times Innovation Awards 2019.
The winners of the Irish Times Innovation Awards were announced at a gala dinner held in the Concert Hall RDS on Tuesday 5th November and PEL Waste Reduction Equipment was recognised as the winner in the Manufacturing and Design category of The Irish Times for 2019.
Earlier in the year, the SolarStreetBin™ manufactured by PEL Waste Reduction Equipment was selected as one of three finalists in the Enterprise Ireland sponsored, Manufacturing and Design Category of the Irish Times Innovation Awards for 2019. The awards recognise innovations in engineering, design and the production of industrial and consumer products and are open to all companies throughout Ireland. The selected finalists pitched their innovations to a group of judges in October and the winners selected were those which demonstrate a proven and measurable impact in both qualitative and quantitative terms in the target market.
The SolarStreetBin™ is a heavy-duty connected litter bin coupled with a software application which allows Councils and Municipals to improve the efficiencies and save on the costs of their litter bin collections service. An integrated solar powered motorised compaction system is coupled with a wireless bin-fill sensor monitoring litter levels in real time are core features of the product. These features and the ability to communicate bin-fill level data to PEL Waste Reduction Equipment's programmable data management platform lets the customer focus their litter collection resources on only those bins, which require servicing, thus increasing the overall efficiency of the collection service.
Tommy Griffith, CEO from PEL Waste Reduction Equipment, said:
"We are delighted that our company has been recognised as one of the leading innovators in our sector this year. Our aim is to be the best at what we do and to have our solar powered IoT litter bin recognised in this way is a validation of all the hard work put in by the team."
This is the tenth year of The Irish Times Innovation Awards, the aim of which is to showcase and reward excellence in innovation across a range of products and services. Along with the national and international recognition PEL Waste Reduction Equipment will receive a communications package worth €10,000 from The Irish Times.